Mobile App Solutions & Services
Mobile app solutions and services involve the development, design, and maintenance of mobile applications for smartphones and tablets. These apps can be designed for various platforms, including iOS (Apple) and Android (Google).
Hybrid App
It is built using web technologies such as HTML, CSS, and JavaScript and then wrapped in a native container that allows it to be installed and run on multiple platforms, such as iOS and Android.
Native App
A native app is a mobile application that is built specifically for a particular platform or operating system, such as iOS or Android. It is developed using the platform's native programming languages and frameworks.
App Api Develop
API specifically designed and developed to facilitate communication between the mobile app and server-side systems or external services.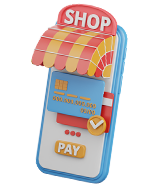 Web App (PWA)
Type of application that combines the capabilities of a web and mobile. It is accessed through a web, but it offers a user experience similar to native mobile app.
We use the best technology stack to build any digital solutions !